NEW VIDEO! 
Hello JeffCo,
In the 21st century, the public deserves accessible, engaged, and transparent elected officials. I am that elected official – every day! I am always working for Jefferson County, JeffCo families, businesses, and YOU!
Also, my commitment to you is that if I am re-elected this November, I will NOT be running for another office mid-term. I am committed to the Treasurer's Office and to JeffCo citizens for the entire four-year term.
Watch Jerry's Video! (approx. 2 minutes)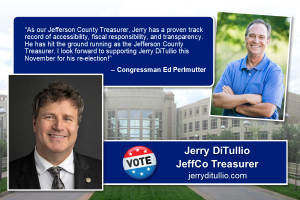 This website is NOT maintained by, or the property of, Jefferson County, Colorado government.
Paid for by Citizens to Elect Jerry DiTullio. Registered Agent: Dick Matthews